Package weight [kg]:

- Producent:

Wariant - monitor:

Produkt - długość [cm]:

Produkt - szerokość [cm]:

Produkt - wysokość [cm]:
TREADMILL LK6800TVC 15,6
Catalogue index: G680TVC
Availability:

Out of stock

Delivery time:

Completion to 2 days

Delivery:

from

US$0.00

(Kurier InPost)
US$9,291.64

gross

/ szt.
US$7,554.18 net + 23% VAT

/ szt.
Description
G680: Quiet, reliable 5 HP AC motor and speeds of between 0,8 and 25 km/h. G660: Quiet, reliable 4.5 HP AC motor and speeds of between 0.8 and 22 km/h. It guarantees power and durability with minimum consumption, thanks to a more eff icient use of energy, which leads to a lower consumption for the same performance.
The HST Phenolic Wax System featured on the G660/G680 treadmills, includes a revolutionary combination of belt and deck with HST Phenolic wax unique to the market that provides a low maintenance system, and eliminates the need of lubrication for an estimated period of 6 months or 1 year (depending on the environmental conditions of the room and the frequency of use).
Casing: painted ABS plastic using automobile technology.
HR monitoring: contact and integrated Polar wireless receiver.
Powerful central elevation system of up to 17%: an axle permits a maximum inclination of 15% in the standard model and up to 17% in models with the optional "Incline +" kit.
XXL running surface, with a longer surface of 160 x 55 cm / 22" for easier and more comfortable running, suitable for all users' strides.
Aluminium side sections and non-slip rubber footrests.
Easy Toolbar for quick, instant access built into the front handrail, this includes pulse rate contact sensors, one-fi nger speed and tilt buttons and emergency stop.
Double screen monitor option: SmartFocus or DOT MATRIX screen.
Connection for mp3 and built-in speakers, which let the user listen to their own music while exercising.
Smart impact absorption system: for more fl uid running, as it controls and absorbs the force of each step on the board, helping to maintain a constant speed during exercise.
Progressive damping elastomers: its advanced technology elastomers gently absorb the fi rst impact of the foot and harden the damping as users bend and lift their foot from the platform. This ensures correct damping that prevents joint and muscle pain in the knees and feet.
Ultra reinforced chassis and oversized frame. Provides maximum strength and reliability during exercise.
Bottle holder: very useful for long training sessions.
4 adjustable feet. They assure the maximum stability on any kind of surface.
Wheels for transportation.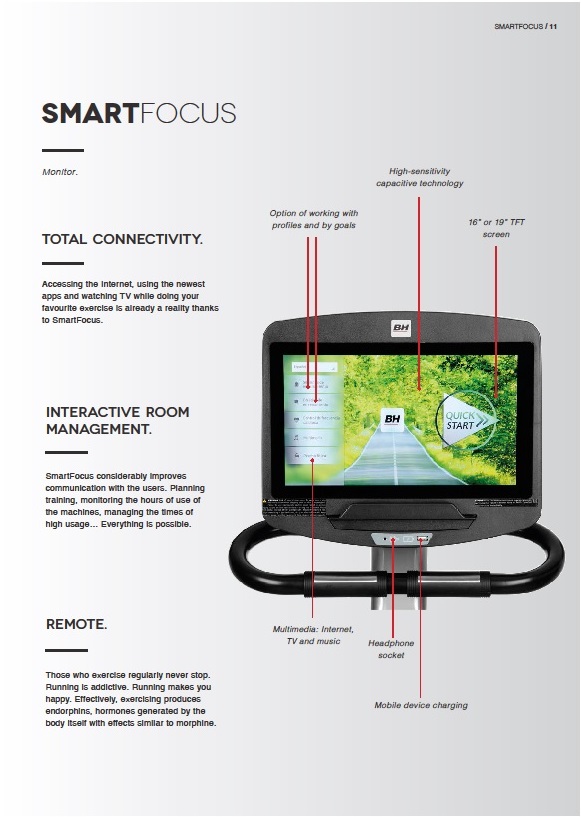 See also
Accessories
US$7.51

gross
US$6.11 net + 23% VAT

/ szt.
US$12.31

gross
US$10.01 net + 23% VAT

/ szt.